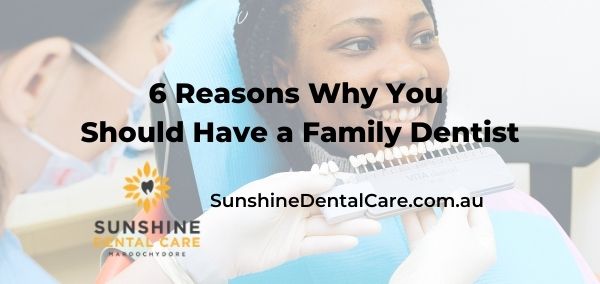 Oral hygiene should always be a priority in your life. No matter how much you brush, floss, and look after your teeth, though, much of this work has to be done by a professional. Most people simply don't have the skills to understand their own teeth, and this only gets more pressing when you have a family to look after.
Sharing a dentist with your family members is a great choice to make when you're approaching something like this. There are plenty of good reasons to go down this route, but you don't have to take our word for it. This article will be exploring some of the reasons, giving you the chance to choose the way that you manage your dental health.
Convenience & Cost Saving
Most family dentists will be happy to handle all of your appointments at the same time. This means that you will only have to take one trip to the dentist to get everyone checked, making it much easier to find the time for it. This can also save you money, as you won't have to book a long list of separate appointments with different dentists; you can just book one for all of you.
Long-Term Childhood Development
Childhood is one of the most crucial times for dental health, as this is when your little ones will be growing the teeth they have to live with for the rest of their lives. Going to the same dental practice as a family from your kid's infant years will give the dentist a much better insight into their long-term health. This can also make it possible for the dentist to monitor your kids for hereditary oral conditions, working to make sure that they don't have any surprises down the line.
Preventing Future Problems
Problems with dental health don't tend to appear over night. It can take many months or even years before a problem reaches its apex, and this means that you need to have a dentist that will be able to spot issues like this as they form. Here at Sunshine Dental Care, our dental professionals pride themselves on being vigilant and taking the initiative when they see an issue arising. Regular visits with the whole family will make it much easier to keep on top of the potential dental issues you face.
Full Oral Coverage
Many people only visit their dentist when they have an issue with their teeth. This can't be done with children, and they need to have regular visits to make sure that they are developing properly. Visiting a dentist as a family will not only give you the chance to stay on top of your children's oral health, but it will also ensure that you can look after your own mouth.
A Plan For Your Family
It's no secret that your dental health isn't always cheap. People often spend a small fortune on appointments with their dentist, all without realising that they could save a fortune with a plan that is designed for their family. Here at Sunshine Dental Care, we have a range of payment options that are designed for families. Not only can children under 5 have their first check-up for free, but you can also take advantage of our bulk billing for Children. This can enable you to receive up to $1000 of free dental care for your children over two years. Call us on 07 5475 4866 to see if your children are eligible for this government funded scheme.
Better Education
Education is a big element of dental health. Caring for a child's teeth is different to caring for an adult's, and this means that parents often need to shift their perspective to be able to handle this properly. Going to visit your dentist as a family will give you the chance to talk to an expert and build a better understanding of what needs to be done to keep a kid's teeth healthy. Our dedicated team is always happy to offer advice and support, whether this is during your appointment or over the phone.
Oral health is incredibly important for both children and adults, and this part of life isn't something you can ignore. Your teeth can't heal themselves or repair over time, forcing you to take good care of them as you get older. Joining a family dentist like Sunshine Dental Care can be a great way to make this easier, especially if your children are still quite young.
Preventing Dental Phobia
The fear of the dentist is such a common problem, and one of the main reasons people leave their dental problems until they are in pain. It is so important that children start coming to the dentist at an early age, even if it is just to sit in the chair and have a chat with the dentist! Doing this every 6 months from a young age can prevent dental phobia and 'the fear of the unknown'.